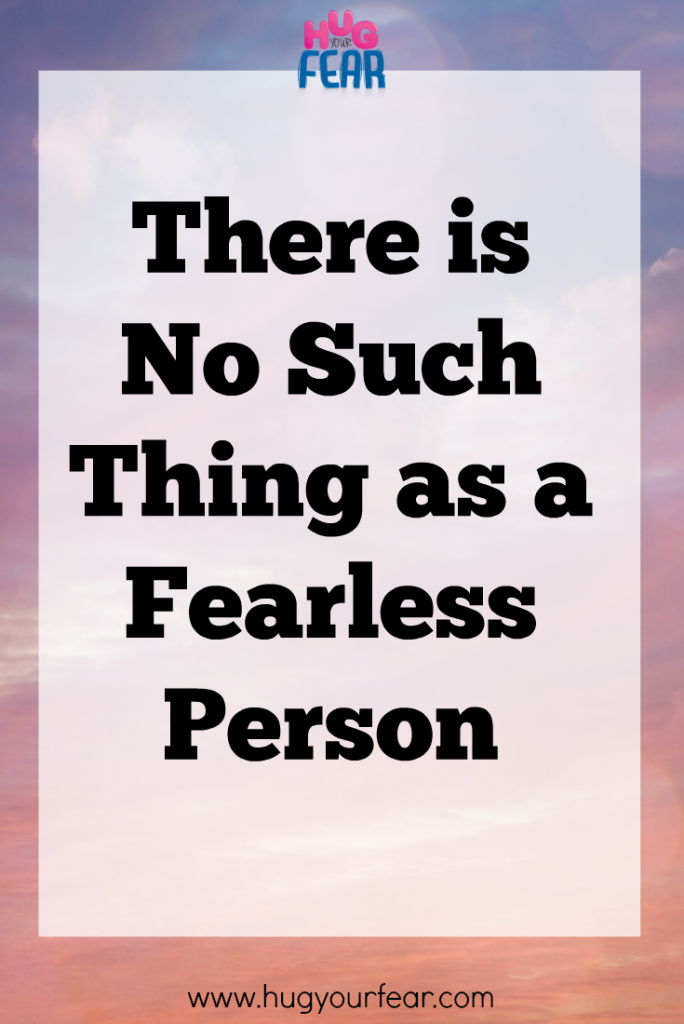 Do you want to be fearless? Do you live for the day when you no longer feel afraid to be or do anything? I want to let you in on something: there is no such thing as a fearless person.
Recently, I was asked to do an interview about hugging your fear for Trish Blackwell's podcast Confidence on the Go. During the interview, I mentioned to Trish my belief that fearlessness doesn't exist. I shared a bit of my thought process during the interview (which you can listen to here), but I want to share more in depth what I meant with you today because I think that the fearless trap is an easy one to get sucked into.
First, a definition, what is the fearless trap?
The fearless trap is a limiting belief that someone out there is fearless and if I can get rid of my fear like they did, I will be able to achieve my goals.
WRONG!!
That belief in fearlessness creates an unreachable goal that actually keeps you stuck in fear. Everybody experiences fear in some way or another. Those people who seem fearless have either practiced the action they're taking (or one like it) lots of times before lessening the impact of fear or they consider the fear they feel something else like excitement or energy.
The idea that you can't take action and be afraid at the same time is total BS. However you came to believe that, whether from a family member or observing some societal messaging, it's time to let that belief go. It's not helpful to you and if you hold onto it, you will never feel ready to take a step towards your dreams.
You can be afraid and take steps forward. You can feel like your heart is going to fall out of your chest and still take steps forward. You can feel like you're going to pass out from fear and still take steps forward. You can feel doubt about your ability to do what you dream and still take steps forward. Fear does not cancel out action unless you let it.
And yes, you will likely feel uncomfortable and unsure, but the more steps you take, the easier it gets. And if that's not enough of a comfort, just know that there is a distinct high that comes after you do something you were afraid to do. I'll give you a recent example.
I've never been interviewed for a podcast before. I am still working through some false beliefs that I have about my ability to share information verbally. I think of myself as a writer first and was not sure that I would be able to share something I care so much about without stumbling over my words or having my mind go blank. Can any of you relate to this?
A few minutes before I did the interview, I wrote out how I was feeling:
Short of breath
Fluttery stomach
Shaky hands
Mind racing
Increased heart rate
Feeling like I had to poo (TMI, I know)
I felt like this up until the first few minutes after we started talking. Then something happened. I was still a bit nervous, but the focus of the interview distracted me from focusing on how I felt and I just let go and enjoyed the moment. When I go off the call, I had the following experience:
I felt very happy
I had a huge smile on my face
I had lots of energy
I giggled out loud
I started jumping up and down
I felt a boost of confidence and pride in myself
What a HUGE difference just by doing something I was afraid to do. And when I reflect back on past experiences, this before and after scenario is usually the case. It's the case for so many other people too.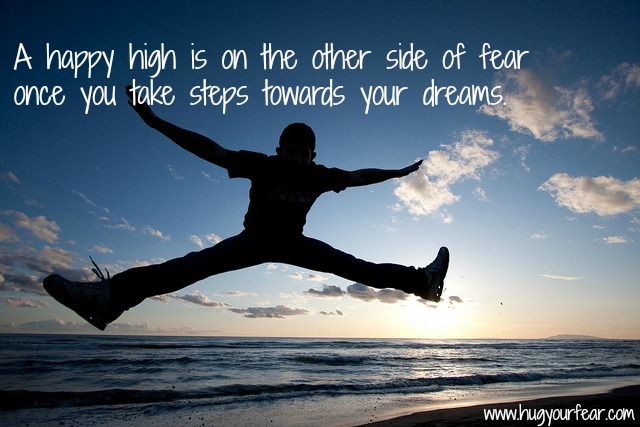 Remember this when you feel too afraid to move. I am not a special person in this respect; you can feel this high too if you just accept that fear is there and move forward anyway.
You don't have to be fearless to take steps toward your dreams. You can feel afraid and still move forward. It's possible. It's how the people you admire do really awesome things and if they can do it, you can do it too.
And with that, I will leave you with one question: if there is no such thing as a fearless person and I can act even though I'm afraid, what step am I willing to take this week towards my dreams and how can I prepare for taking that step today? Remember, little steps count.
And make sure to check out my interview with Trish here. I was so nervous! Let me know what you think!
Until next time,
Varonica 🙂
Images: "Fearless/Less Fear" by ylmworkshop is licensed under CC BY 2.0; "we love jump" by Roberto Ventre is licensed under CC BY 2.0

If You Liked this Post, You Might Also Like:
What To Do When You're Too Afraid To Do Anything
Why being "nice" is dangerous (and what to do about it)
Talk Back to Your Fear (Using Past Examples)