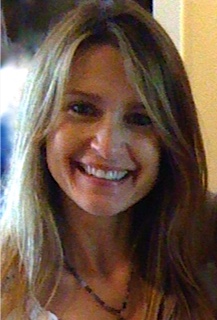 Meet Julie Matheson! Julie is a great friend of mine and has so graciously shared with us how she hugged her fear and experienced some pretty cool outcomes. Read along and I'll share some of my thoughts too after her answers!
Tell us a little bit about yourself
I'm a spiritual coach and energy healer. I pay attention to how attitude and intention affect outcomes. I care about Living Life on the Lotus Flower, finding and creating bliss states within myself. I enjoy helping others detangle their emotional knots, and guiding them to find peace beyond tricky patterning. The trickier the better. I believe you can clear a pattern in one sitting. I've done it many times. In my work, we map everything out on paper so you can see the way a pattern is manifesting for you, so you can then outsmart it, and completely detach from it. I'm into all things spiritual, particularly co-creation, manifestation, energy healing, energy psychology, Reiki, etc. Oh, and, I should mention, I'm into angels and work proficiently in those realms.
What was one thing that you were scared to do and did anyway? And what exactly scared you about doing that one thing?
This story is about fear and flow. Yesterday, I woke up in San Diego at 4:00am in plenty of time to catch my 9:00am flight back home to Boston. With so much time on my hands I made some tea, wrote in my journal, did my workout, had a lovely phone call with my husband, took a shower, packed, cleaned the AirBnB place I rented, and then as I was packing up my rental car, I realized the time. I had gotten lost in the bliss of my activities, and in my joyful state, I was so late I was going to miss my flight! I needed 20 minutes to drive there and 30 minutes, at least, to return the rental car and to ride the bus to the terminal. I needed to check my luggage. Then there's the security line. I figured I needed 90 minutes at a minimum to do all this, and at this point, I only had 20. Where had the time gone?
What did you do or what happened to help you ultimately hug (overcome) your fear and do that thing?
Here's what happened: My first thought was, "Shit, I'm going to miss my flight. How did I do this? What is the matter with me?! I feel like an idiot." Next thought: "I am perfect just the way that I am. If I am meant to be on this flight, I will be on it. Angels, help me get there. Help me be really smart about every move I make. Time is of the essence." So then I hit every light green. When I got to the rental car return, a kind man there drove me to the terminal himself so I didn't have to ride the bus. There was a long line at the curbside check in, so I inquired to the check-in-person, "What should I do?" He said stay in this line, don't go inside, this is faster. It was! I moved through this 20 person line in minutes. Once inside, there were hundreds of people in the security line. I took a deep breath. What happened next has never before happened to me: without my asking, they put me in the line that doesn't require removing laptops or shoes or coats. I breezed through in five minutes. Somehow, all totaled, I moved gracefully through all these steps arriving to my gate in less than 20 minutes. Whew! It was a miracle. Several miracles actually. One after the other. Some I asked for, some I didn't. Once on the plane, securely in my seat, a person came down the aisle and asked to share my row. This person, as the flight unfolded, ended up giving me guidance to a question I have been thinking about all week. But that's another story.
Are there any books, practices or other resources that helped and/or continue to help you hug your fear?
The book I most recommend for dealing with time constraints and long to-do lists and dreams and goals, is Ask Your Angels. Another great resource is my friend Emmy Morgan who didn't write the book Ask Your Angels, but whose website goes by the same name.
I also recommend listening to uplifting music and chanting. Although I have to warn you, I was listening to the mantra Om Mani Padme Hum sung by Karl Anthony when I lost track of time. Although, it was this same sound track playing in my mind that kept me positive as I moved through each step to my flight, too. So your gamble there.
What would you say to someone who wanted to do something that scared them, but was struggling to take a step?
Ask for help. You will get it!
Is there anything else you'd like to share?
As someone who loves to journal and write, I think a lot about the creative process and how I can get lost in it. It can be difficult to go into those spaces. And, it takes time and skill to transition back out. It's so worth it though. So much gets done in there in those places. It's no wonder why I put off going there. It's no wonder why I never want to leave.
So that's Julie's story! What stood out to you?
I love how Julie caught herself soon after she started to worry and went right into the practices that she has found to work with and through fear and worry. Even if you have different spiritual practices (or have practices that aren't really spiritual at all), I think that you can use a similar method when faced with a situation where you are tempted to freak out.
1. Notice that you are freaking out.
2. Take a breath or center yourself in some way.
3. Choose to use a calming approach to whatever you're facing again.
I also love her "Ask for help. You will get it." tip. It can be scary to ask for help spiritually and/or from the people around you, but it is also often worth moving through the fear of potential rejection to do so.
I'd love to hear your thoughts so leave a comment below. What practices have you found to be helpful to you when you're faced with a situation where you used to panic or worry? Have you ever asked for help even though you were afraid of not receiving help?
You can visit Julie at her Lotus Flower Living website here. 
And if you have a fear hugging story of your own that you'd like to share, submissions are open HERE. I'd love to hear from you and share your story!