"I am still doing it. Fifty pounds later and doing things that I never in my wildest dreams at my age thought I could do." – Patricia Wilson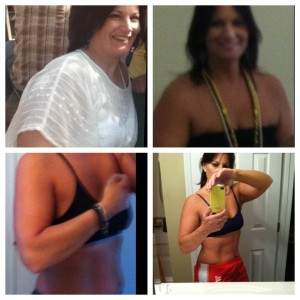 Patricia Wilson describes herself as "curious," "driven by fears" and "smiling and very upbeat." I found that to be true when I interviewed her. Patricia shares with us how she overcame her fears and perceived physical limitations to lose 50 pounds and become an "athlete."
V: How would you explain what you wanted to do and what fears you were having when you were deciding to do this thing?
P: So, I am turning fifty in a week. I have had Lyme disease since probably 1980. And so the results of that have been bone degeneration and muscle degeneration. Four years ago in a series of things, I've had both hips replaced, shoulder replacement and neck fusions for multiple discs. So, why am I telling you that? Well because I decided that I wanted to CrossFit. And, of course there's that fear, that, I don't know how much you know about CrossFit, but it's a pretty intensive workout program. It's very military based, you're flipping tires, lifting weights over your head, you're running. But I did that after the surgeries and it's a year later and I'm doing amazing and doing as much as people are doing without having those limitations.
V: How did that happen? Deciding to do CrossFit?
P: So, a friend of mine had been doing it for about a year and she kept provoking me and trying to tell me, "hey you need to do this, this is great." And CrossFit is very, I don't want to say cultish, that's the wrong word to use, but once you do it you they say, "drink the Kool-Aid." Once you do it, you really get addicted to it. She kept provoking me and provoking me and at that time when she was talking to me about it, I was fifty pounds heavier, so I was pretty heavy. I'd been very sedentary. I was in my brain thinking, "Oh, man, I've had these surgeries, I've had all these complications, with fatigue and everything else, there's no way I could CrossFit that's just crazy. No frickin way." So she started kind of talking me into it if you will and it's always been something I'm very self-conscious about myself because I'm not a small person. I'm 5'5. At that time I was probably 185 pounds and because of the surgeries I thought maybe that's something I couldn't do. Even though my doctor said, do whatever you want to do as long as it doesn't hurt. So I said I'm not going to do this until I lose a little weight before I go in there. So I started this paleo diet, have you ever heard of that? So I've been doing that for a year and a half now and I did that for eight months prior to going into CrossFit. And I lost about 18 pounds. So she kept saying "Come on, you've gotta go, you gotta go." So finally I said "All right, fine. I'll frickin go!" I was scared to frickin death because these people that go into this, they're beasts. I mean, they are like intense. I thought, "Oh, God, I'm gonna go in there this fat girl with these shorts and this tank top. I'm gonna look like a big tub of lard."
V: So you were afraid of being judged?
P: Yeah, I was afraid of being judged. I was afraid that I couldn't do the movements because there's a lot of squatting and heavy lifting and I thought "I can't do this." And they have a foundations class prior to you starting so you have to pay a ridiculous amount of money to do this class and I thought "Oh, God, I'm gonna waste this money and I'm gonna hate it." But I went into this foundations class, and I was so afraid to walk into this place, I can't even tell you. It took everything I had to walk in there. But I did and the coach was amazing and he knew what I had gone through, but he didn't baby me and I hate to be babied. He had me doing these squats and all I could do is this very minimal squat and he's like "Oh, that's good! Keep going! Keep going!" And just over a process of time, it's been a year now, I lost fifty pounds, which was my goal by my fiftieth birthday. And I'm doing deadlifts at 155 pounds and I'm doing squats like everybody else and I'm flipping 300 pound tires and I'm doing all kinds of crazy stuff.
V: So what helped you move forward through your fears?
P: Well, the biggest thing I think was that I knew that I could do whatever it is that I could put my mind to. I knew that I could do that. I'm really shy; really, really, really shy. The CrossFit people are very unified and there were a couple of people that were very supportive that would high five me, tell me I'm doing great or whatever and not that I need the encouragement, but when you're talking about someone that's very shy, that makes a big deal. What got me through the fear of going in was the fact that I saw that I could actually do it and I kept surprising myself. I still surprise myself. I'm afraid every time I walk in that box. Every single time. Every single time you have fear.
V: The box being what?
P: In CrossFit they refer to the place in which you work out as the box because it's an empty space that doesn't have machines. You are the machine.
V: And even now after all this time you're still afraid?
P: After a year I'm still afraid. Yes. But that fear drives you to do every single workout. I don't look at the workout prior, I try not to look at the workout, it's a lie if I tell you never. But I try to not look at the workout prior to going in because it could possibly keep me from going and doing it. But, yeah, I'm afraid every single time. I'm afraid that one, I'm not going to be able to do it. Two, that I'm walking in possibly by myself, that's another thing. Being shy that way and it's a little bit insecure. I'm better now, but there is a time when I wouldn't even walk in there by myself. But, I'm doing better. Even after a year.
V: Well you're still doing it.
P: Yup, I am still doing it. Fifty pounds later and doing things that I never in my wildest dreams at my age thought I could do – never, never, never. I was walking through the airport, 'cause I travel a lot, and some guy stopped me and he goes "God, you look strong." And I thought "What in the world is he talking about? Me? I look strong? Are you kidding me?" He was like "Oh, my God you look so strong. You must be an athlete." That's the words he used – an athlete. And I never in a million years would have thought someone would refer to me as an athlete. That was cool. That made my day.
V: That is pretty cool. I wasn't expecting that, the athlete part. But that's pretty cool.
P: Well, in CrossFit, that's what you're called. Everyone's an athlete in their training. That's what you're doing. You're not just working out, you're training for something. I've done benefits for CrossFit. We were doing an event for Christmas and we're raising money and there's an exercise where you're jumping from the ground onto a 24-inch box and I was jumping up on the box and I was only five months into doing this now and I fell on the box and gashed my leg with the corner of the box and I just kept going. I finished the workout, I wasn't gonna quit because with the time that I took, we were raising money. I was bleeding like frickin crazy and you could feel it running down my leg and I went up to my coach and I showed her the gash and I said to her "Coach, hey, look at this. Do you think I need stitches?" And she was like "Oh, My God Patricia! Get your ass to the freakin' hospital." You could see the bone sticking out.
V: Wow! That's determination.
P: That's determination. But I still get on that box. I took that box, I put it in the other room and I looked at it and I said "Box, you are not getting the best of me. I am getting back on you and I'm gonna keep jumping on you." And I'll be darned I did it and every single time I have to do box jumps I still feel that fear and I have to keep talking to myself to get on that stupid box. It's crazy. So it's a mind thing. It really is.
V: What advice would you give to someone who has a dream but they think they can't do it or they shouldn't try because they're afraid?
P: I would first ask them what they're afraid of and if it's failure, I think failure is a learning process. I think failure is good. I don't think failure is bad. Cause that's what most people are afraid of is failure and I would always ask how they would feel if they didn't do it, whatever that is? How would they feel if they didn't do it? Regret?
So that's Patricia's story. She reminds me of three things: 1.) Never underestimate the power of a friend in your corner who helps push you through your fear. Even friendly strangers can be very helpful too. 2.) It's never too late to achieve new and interesting things. You're not too old unless you say you are. 3.) Hugging your fear is about learning how to act when afraid and not learning how to not be afraid. You can do great things AND be afraid. And one last note, just in case you wondered, I am in no way endorsing or not endorsing CrossFit. Patricia could have done a number of things to help get over her fear of physical movement and losing weight (Zumba classes, bicycling, kickboxing) and it would have been equally inspiring and helpful. The point is that she overcame her fear and chose a direction and stuck with it. What did you think of Patricia's story? Have you faced something similar? Share with me and your fellow Fear Huggers in the comments below.