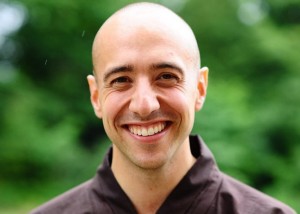 Meet Brother Hue Chuyen, an American Buddhist monk living in Germany who is embarking on a journey to India despite having no income, no health insurance and no detailed travel itinerary. Does he feel fear? You bet! But he's going to do it anyway. Here's what he shared with me about himself, what brought him to this point and his thoughts about the whole process.
Becoming an "American Buddhist monk living in Germany"
I was born in Andover, Massachusetts, a residential town about a half hour north of Boston. My parents were Jewish, originally from the Bronx, and raised my older sister and myself in a white house on Elm Street.
When I was little, my father used to share with me stories of the supernatural. Everything from aliens to Bigfoot to mind control. He even went so far as practice "control dice" with me when we played backgammon, focusing on a specific number and trying to roll it. I think these early encounters with the supernatural world gave me an interest in seeing reality and understanding the secret working of the universe. This all went underground to a degree until I got to college. I went to the University of Hartford to study physics, still interested in understanding the world.
Through a close acquaintance, I got back into supernatural themes such as energy transmission, mind reading, and ghosts. Slowly I also started hearing about chakras and meditation. I ended up meeting a Reiki Master, a friend of my Father's, and also a visiting Zen Master who happened to be giving a talk at my college. The interest in the supernatural slowly refined into a search for the spiritual. I changed my major from physics to art and joined the philosophy club, hoping to find the answers inside of myself instead of in the world. This passion for spirituality slowly gained ground in my heart and after graduating from university I traveled to Germany to visit the monastery of the Zen Master who I had first met in Hartford. The longer I stayed, the more it became clear that my search was not an external one but a deep and personal one. I felt that I was wearing colored sunglasses and everywhere I went, the world would also be colored. I reflected that it made more sense to stay in one place and "correct my vision" then traveling the world with a skewed perception. I ordained as a monk and have remained so ever since. This was 7 years ago.
Over my time here I have learned and grown but have also been aware of a slight dissatisfaction growing inside of myself. Sometimes it was louder, sometimes drowned out by the busyness of daily life, but it was always present. I have wanted to travel for a while but somehow could never make the step. Like I had the emergency brake on and I couldn't figure out how to release it. As the dissatisfaction grew, more and more pressure was building up onto a certain point within my psyche until the situation became clear. It was fear.
I could see that one of the reasons I ordained was also because of security. I had food, clothes, a place to stay, an interesting life, position, and I could learn spirituality. However, the deep feeling that something "wasn't quite right" was in fact because I was giving away my life responsibility. I was making myself dependent on a system to take care of me, thereby never really needing to grow up and face the difficulties of life. This also meant never being able to grow on a deeper level and never really coming into my personal power. After seeing this clearly, then it was just a matter of being honest with myself. Although the "existence fear" was quite strong, it felt more honest to plunge into it then to live a sort of half-hearted life. I simply couldn't do that to myself any longer.
Deciding to go to India
I decided that I wanted to go to India as my next step. It is a complete crazy place where anything can happen. Spirituality and poverty and commerce and crime all seem to flow together in some great tapestry that is called "daily life". It is also the birthplace of Buddhism and I feel quite optimistic and supported to go there as my next step. Specifically, I will travel to Bodhgaya—the place of the Buddhas enlightenment—and see where it goes from there. I am not sure if I will remain a monk in this next phase because it is still, on a very subtle level, a type of security that is keeping me from having to stand on my own feet.
In all, I have decided for myself that I would rather live a true life, one without regrets, and one that I can stand fully in my personal power, then a safe, prison-like existence where I cling to security and comfort. I have done that for too long already and it just makes me feel depressed. When I look at many people around me, I see that something in them has died. I guess it is something from their soul. When I look at children I still see the light in their eyes and believe that if I asked each child they could clearly tell me what makes them happy and what they want out of life. For some reason, as we grow older, whether it's from education or disappointments or fear, we slowly allow that inner light to shrivel and perhaps for some of us even to die. We would rather live a life of comfortable safety then a life of freedom and fulfillment.
I cannot say what will happen when I go to India next month and I don't worry about it either. I trust my heart and I am happy that finally after 30 years of life I am at point where I can fully "go for it" without even knowing what "it" is. I guess it comes back to something a young woman said to me at a Dalai Lama teaching in Hamburg a few years back. She told me, "You know, I just don't understand people who tell me that they are lost. How can you get lost? There is only one way to go, and you are either going or you are not!" I've thought about that ever since, and now, for myself, I can truly say, I am going.
Are there things that you think you'll pull from in terms of ways that you've overcome fear in the past?
I guess it's a yes and no kind of answer. Because in one way I feel like this is the first time that I'm just kind of throwing myself out there with no real feeling of a base or direction. So I feel like I'm confronting things for the first time. Also, being a little bit more of an adult, because I came to the monastery when I was 22 and now I'm 30, my mind is in a very different place. Fresh out of college it was more about what would interest me, what seemed important. And at the moment it's this feeling of, you know when you turn 30, at least for me anyway, it's kind of time to get your life in order. You know, whatever you're gonna be doing for the next 10-20 years, you're gonna be starting it now. So, I'm going off another mindset. But definitely my training in meditation and self-acceptance and trying just to allow whatever emotional responses are there without them controlling me. I'm definitely affected by them, but they don't rule my life and influence my decisions to that high of a degree.
Somehow part of the reason also is to reexamine where I'm standing at the moment and to say is this where you want to be standing fully. Even since I was a little kid I had this feeling like I don't want to look back on my life when I'm an old man and regret something or regret not doing something. That would be probably like one of the worst fates I could have is to have this feeling of somehow wasting my life or not doing something that I really felt like was important to do. For some reason that's really important to me, not to have this regret. Because I feel like the life I have right now, now that I'm home and I'm with my friends and stuff, I don't feel like many people are doing really what they want to do. There's people that are happy with what they're doing and some people that are not really that happy with what they're doing but they need money. But I haven't met many people that are through and through really happy, and doing something that they want to dedicate their lives to as opposed to just doing a job as a means to make money to support this other thing called life which is like a house with a family.
For myself I really had the feeling that I have to be fully honest with that feeling, even if there's a little bit of discontentment to really examine that. And I see that even though I had a large house, a community and food and pretty much everything on the survival level that anybody could want and more and then also a computer and seminars and things that were interesting, I had almost everything I could want. Everything that the average person would say "Yeah, this means happiness." There was still that part of me that felt that I was a prisoner of the security feeling, of being there because it was easy, because it was safe and I wasn't really standing on my own feet. And for myself, that's a no go.
In the end for me, that's the key to personal happiness, when I'm standing in my own power. Because otherwise it's like the feeling of a dream where you try to scream and no sound comes out, like you're trying to connect to your force and it's not there and that's kind of like how I felt, like I was just floating somehow. Somehow half alive and it was enough, but God, I don't want to live a life that's just enough, I want to live a life that's fully joyful and enriching and present and to just be fully honest to myself.
Because also I feel that my life is a lot about supporting and encouraging and inspiring other people to really make the most of their lives and to find their happiness and unless I am through and through an example of that, how do I expect to really encourage and empower others? I can only empower somebody else if I'm in my own power. I also didn't want to live a contradiction in some way.
So what did you think? I loved how he is in tuned with the messages he gets from within that say it's time to move on, you're too comfortable. It's so hard for so many of us to hear those messages, let alone heed them by taking a leap. Also, since I've been interested in meditation for a while and attempting to practice it more in the last month or so, I like how his background in meditation taught him how to just be with those fearful feelings that come up. If you're interested in trying meditation, here is a short article by Jack Kornfield that I found helpful. And if you want to follow along or support Brother Hue Chuyen in his journey, you can visit the Facebook group that he set up here.
Photo: Brother Hue Chuyen
If you liked this interview, you might also like:
Interview with Carrie English – "Regret is the worst"
Interview with Razwana Wahid – "When something is really scaring you, you have to do it."