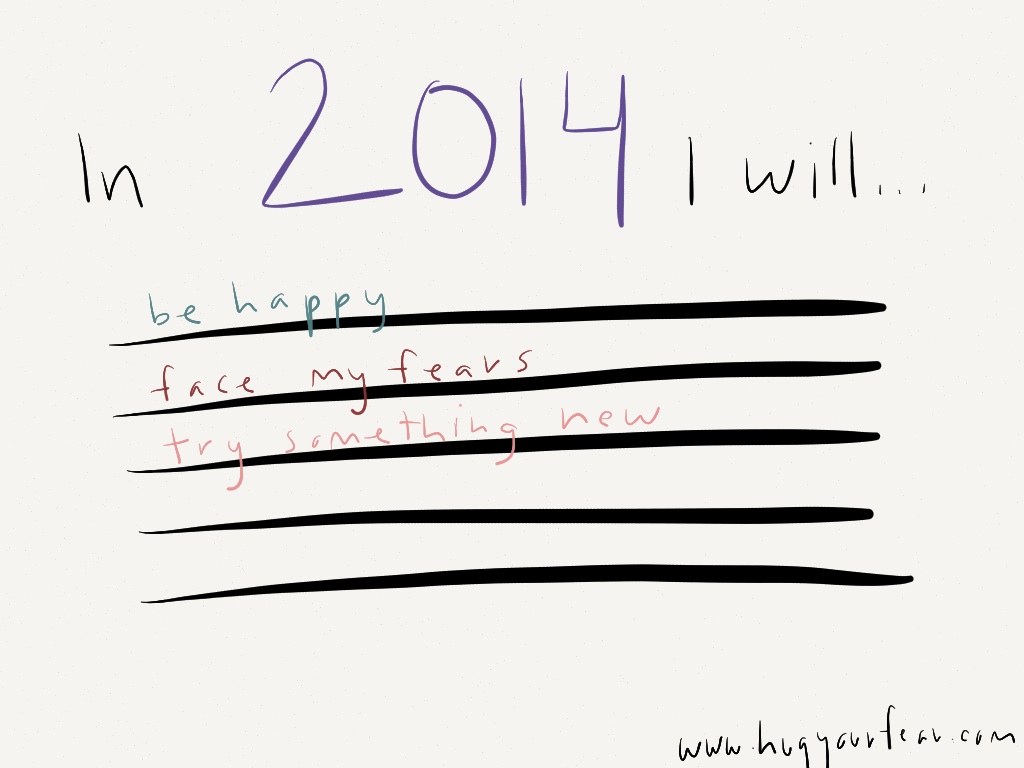 Happy New Year!
Like many people, I spent much of December thinking about what I want in my life for the next year. Part of that includes my intentions for this blog; more of it includes all the other areas in my life that I want to improve.
Starting this blog has made me realize that I'm not as afraid of failing as I am of succeeding. What would it mean for me to do well? What responsibilities and expectations come along with success? Am I capable of handling them?
Like the much repeated Marianne Williamson quote:
"Our deepest fear is not that we are inadequate. Our deepest fear is that we are powerful beyond measure. It is our light, not our darkness that most frightens us. We ask ourselves, Who am I to be brilliant, gorgeous, talented, and fabulous? Actually, who are you not to be?"
It's easy (for me, and maybe you too) to fear being a failure because you get to mentally play out all of the ways that you might be incapable. I think it's harder to overcome the idea that I can have what I want. I'm used to the negative thinking and considering myself less than. That's one thing I'd like to change in the New Year.
Setting goals that scare you can open you up to doubts about your worth, but it's good to get your beliefs about yourself out in the open. You can't adjust what you're not aware of.
Part of thinking about what you want for the New Year is looking back over what happened in the year that just ended. So this is what I've also been doing.
Starting this blog was a big set of fear inducing steps for me. It was also one of the highlights of this past year.
This is the first time that I've ever shared my writing in public (aside from school).
It's the first time I've cold called (or emailed) people I didn't know asking them to help me when I had nothing to show for it besides my word.
It's the first time that I've actually interviewed people and had to act like I wasn't terrified that they would see right through me to the scared, inadequate girl I felt like I was.
I sometimes downplay how big of a step for me this all was as it doesn't seem like it should be that scary in comparison to other things (like jumping out of a plane, speaking in front of thousands of people, starting your own business, [add your own gold standard scary experience here]). But then I have to stop myself.
If these are the things that make me afraid, then that's where I am.
No shame.
No judgments.
It's not about doing things that other people think you should be afraid of. It's about looking within to see where your comfort zone lies and then taking steps based on that. "Little" fears are just as important to pay attention to as "big" ones.
Starting this blog has challenged me to reconsider what would make me happy, reconsider how I feel about myself, reconsider how I WANT to feel about myself. It's made me ask myself some honest questions: Do I feel that I deserve good things in life? Do I want to be happy? Am I willing to do what it takes to create a happy life for myself even if I'm terrified and uncomfortable at times?
And I don't know the answers to all of those things right now. But I'm learning that that's ok. I'm also learning that I don't have to know all the answers before I take a step. I don't even have to feel like I deserve good things before I try anyway.
So when you're setting goals for the New Year, be kind to yourself. Applaud what you did last year that worked and acknowledge (without judgment) what didn't work and what you learned from it. Focus on the things that scare you and how you'd feel if you did those anyway. Pay attention to what feelings and old beliefs come up and don't be afraid to question them. Life is short; we are all doing the best that we can do. What matters is that you just keep at it and don't give up.
Thanks for coming along on this ride with me. I hope that I can continue to bring you things that will help you overcome fear in your life. Let me know if there is anything that you'd like to see or any topics you'd like me to cover.
Let's make 2014 a happy, healthy and fear hugging year!
I'd love to hear your thoughts on what I wrote and/or your experience with setting goals for the New Year.
If you liked this post, you might also like:
Scared to Make A Decision? You Don't Have To Be.
Afraid you're not doing enough? Just observe and write.