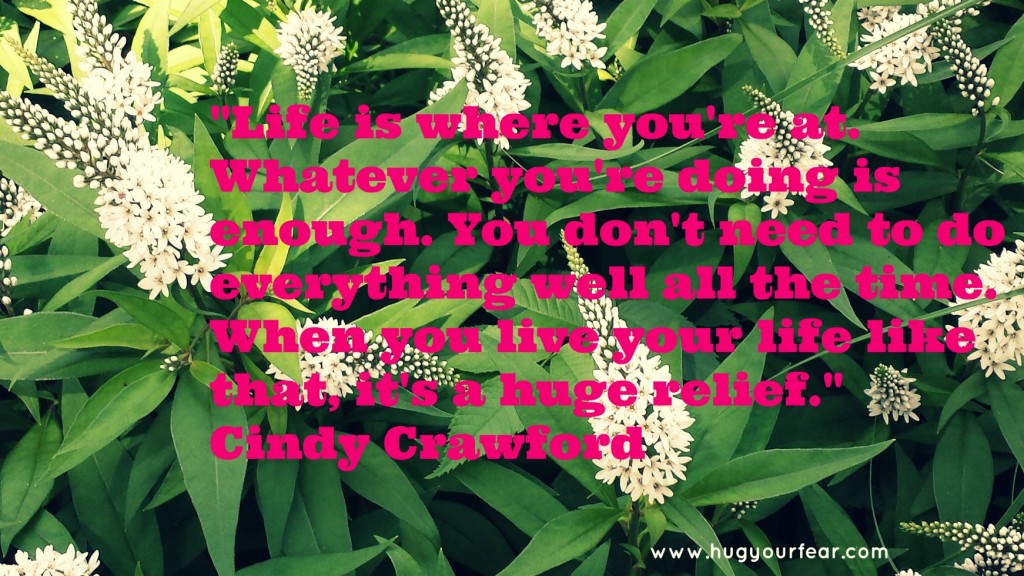 Ok, before I start, I recognize that while you're reading this you may notice that today's reflection isn't specifically about overcoming fear. I thought about a few other things I could write about, but this topic keeps tapping me on the shoulder so I decided to write about it here.
I've noticed something that happens once I've started taking steps towards my dreams. Very often I'll stop in the middle out of discouragement and the belief that I'm just not doing enough. Have you ever felt that way? I have a feeling that a lot of people who struggle with fear may feel this way too.
After I turned thirty, I decided to start observing myself without judgment. So far it's been life changing (I'm sure I'll write about this too at some point) and it's what caused me to notice that I have been berating myself for not doing "enough" and I want to stop.
So here's what came out of my observation:
Am I using my own standards or someone else's?
It's so easy to adopt others' beliefs and thoughts as your own and not even realize you're doing it. I've found that my belief of what's enough was built on someone else's standard of unreasonable perfection and the borrowed belief that if you're not doing something every second or doing really huge things every day you're a poor excuse for a human.
My own standards, or the ones of my ideal self, are a bit more humane. I want to be taking at least one step every day towards my goal with the emphasis on the direction of the step and not on whether it's a huge one. I very often take more than one step, but with my ideal standard, I consider those steps nice bonuses which makes me feel even better.
Am I being honest with myself about missing the mark using my own standards?
In observing, I find that it helps to consider all the possibilities so I don't let myself off the hook. What do I want to be doing and am I doing that? Am I consistently not taking at least a step a day? If I'm not doing what I say I want to be doing, then there may be some truth to me feeling like I'm not doing enough. But I don't need to use it as a label and just wallow, I can use it as a sign that I need to regroup and try a different tactic or change my standards.
Start an accomplishments journal
This has been one of the most helpful things that exposed the "I'm not doing enough" thought as a lie. Write down what you've done towards your goal every day. Write it in a journal, in your day planner, in your phone, anywhere you can refer to easily. At the end of the day or week, take out your list and look over what you've done.
Most times that will be enough to make you see and hopefully appreciate the cumulative work you're putting in towards your dream. If you still look at the list and feel like it's not enough, ask yourself what you would say to the list writer if the list was written by a close friend or family member that you care deeply about.
So hopefully this has been helpful to you. Have you ever experienced these feelings? Have you found another way to deal with feeling like you're not doing enough towards your dream? Please share!